Kenny is the founder and first music teacher of At Home Music Lessons. He received his Bachelor's in Music with a minor in business from Rochester College in 2006. In 2003 Kenny received certificates in Business Management and Accounting from the Kenya Institute of Management in Nairobi, Kenya. Since 2005 Kenny has been giving private piano lessons to students ages 5-75. In his studio, Kenny couple's patience and rapport-building skills with a solid music foundation. Through At Home Music Lessons Kenny means to lend his unique teaching talents and experience to the successful education of more students in music.
Andrew Smith is a guitarist, composer, private instructor and session musician. He has been playing guitar since 1999 and piano since 2005. He has been a guitar instructor for over 10 years. He has experience in teaching students of all skill-levels and ages on guitar (Electric/acoustic/6 or 7 string), bass guitar, and piano/keyboard. He is well studied in music theory. Andrew specialty is playing the following types of music: rock, jazz, Latin, gypsy, progressive metal, and instrumental music.
He studied under renowned German guitarist, Christian Muenzner for 2 years. Andrew holds a bachelor's degree in psychology, despite being accepted in to the prestigious Berkley College of Music in Boston. His true passion is music and sharing the musical language. Andrew is constantly learning and studying himself to improve his musical knowledge. He has toured with local and international bands and is currently working on writing his own band's debut.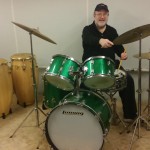 Mark is an accomplished drummer who has performed with various small groups in the Detroit area, Washington DC area, and Austin, Texas. He plays drum set, conga, bongos and other percussion instruments for over 35 years. His favorite types of music include light rock, country rock, jazz, Latin, Caribbean, and the blues.
Mark has studied drum set and other percussion instruments (specializing in hand drums) with several professional performers over the years and has taught young children, family members, and friends in the fundamentals of drumming. In addition to drums and other percussion, Mark is an accomplished Euphonium player who has performed with various school bands, community bands, and small brass groups. He also plays trombone from time to time.
Mark learned the fundamentals of music as a child in elementary and middle school bands and through private piano lessons. When he is not drumming, Mark works as a professional writer and editor for several Detroit area clients.
Mike Kelly is an experienced music teacher and instructor with over 20 years of teaching under his belt. He is skilled in teaching a variety of instruments, including guitar, bass, drums, and piano. His teaching style encompasses note reading, songs, music theory, technique, classic rock as well as modern rock. Mike's passion for music and his extensive experience in teaching has helped him to develop unique and effective teaching methods that cater to the individual needs of his students. Whether you are a beginner or an advanced musician, Mike can help you to reach your musical goals and unlock your full potential.
You can call him Buddy for short. He plays various musical instruments and has been playing for over 40 years. He can play Saxophone, Clarinet, Trumpet, Guitar and Piano.
He is the son of a well-known Musical Director in the Philippines. When he was 11 years old, he was able to play the Clarinet and joined various Bands in Davao City National High School in the Philippines. After 6 years, he mastered Alto Saxophone and played for College Band in International Harvardian University in the Philippines. After graduating college of Civil Engineering, he still pursued his musical career and joined professional bands, Orchestra, and Choir in the Catholic Church.
He is good in Conducting and Reading notes thoroughly. Very friendly and approachable. Currently Resides in Southfield, Michigan. Knows Jazz, Swing, Boogie and even Modern.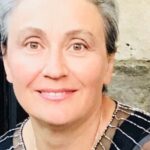 Valentina Boyko completed her music degree and started teaching piano in Ukraine. She then joined At Home Music in 2014. She works with all level piano students. Valentina has developed long-term relationship with students and averages 3-5 years Teaching with most of her students.
Johnathon Larson is a 23 year old guitarist from Oakland county, with 10 years of studying the guitar, music theory, and various guitar techniques.
Johnathon has also had experience with live performances, that vary from small venues to multiple festivals, charity events, and even live radio performances.
He started learning guitar at the age of 13 and hasn't put it down since. He loves every aspect of music weather it be jamming with other musicians, writing original music, performing or working on expanding his own musical horizons.
Johnathon has always had a focused driven mind set when it comes to learning guitar and music theory, with the ambition of nothing is impossible to learn and play if you give it time, a lot of practice patience and self discipline He hopes to instill the same mindset to his students, while keeping it fun and nurturing to their musical potential. he'll always make sure the student fully grasps the concept and understands it before moving on he's very patient easy going and understanding of everyone learning at different paces.
He can play a wide variety of genres and styles such as, rock, jazz, funk, pop, metal, progressive Jazz Fusion, blues, RnB, country, finger-style, and sub genres.
Johnathon has studied guitar and music theory for the past 9 years under Ken Andreoni who graduated from Wayne state university, and has taught for over 20 years privately and for various music institution's.
Michael James Thompson has over 20 years of experience as a working musician, combining: Private drum instruction, live performance, studio work, and collaboration on original material with fellow musicians.  He studied under two excellent drummers from the Detroit Metro area: Darryl Pierce and Donny Gruendler.
His former teacher Darryl Pierce (among many other accomplishments) currently tours internationally and nationally with a well-known artist by the name of Bettye LaVette. This group has made frequent television appearances, including: David Letterman and Austin City Limits.  And his first teacher Donny Gruendler, is currently the Vice President of Academic Affairs, at Musicians Institute in Los Angeles; and he has been featured in several Modern Drummer publications.
Michael has been blessed with great musical experiences in the Detroit area.  He has been a member of solid Metropolitan Detroit bands, including: Friends of the Family, Night Train, Mojo Stu, and The Mobius Loop.  He has supported notable national acts, including: The Headhunters (Herbie Hancock), Melvin Seals, Mofro, and Strange Folk.  He has also recorded at excellent Metropolitan Detroit area studios, including: Studio N Armada, Riff Lab Studios, Woodshed Studios, and The Disc.  Michael also feels very fortunate to have played many of the top venues and events in the greater Metropolitan Detroit area, including: The Magic Bag, The Magic Stick, The Majestic Theater, Fifth Avenue Comerica Park, Smalls, Bert's Marketplace, The Cadieux Café, Alvin's, The Old Miami, The Music Menu, The Detroit Art Festival, and The Dally in the Alley.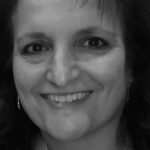 Mary Ann started taking guitar lessons when she was eleven.  In her younger years she has performed at open jam sessions and talent shows.  Playing guitar has always been her favorite pastime.  Mary Ann is an Early Childhood Educator with a Bachelor Degree in Family and Child Development.  She always had a passion to make a difference in the lives of others and is a firm believer that music can do just that.  Her patience and caring attitude makes her an outstanding guitar teacher.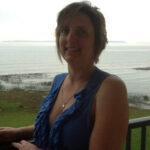 Cheryl began playing violin at 9 years old.  She has played solo and in ensembles from a very early age. She played in symphonies and quartets as a teenager and continued this into college.  In college, as a music therapy major, Cheryl began playing piano and guitar as well.  As a therapist, Cheryl has played and taught all three instruments for decades.  Cheryl continues to play violin in symphonies and plays violin and viola in quartets.  Cheryl has played 1st violin in the pit orchestra for several musicals.  She is currently in the 2nd violin section of Livonia Symphony and leads the 2nd violin section of the Detroit Medical Orchestra.  Cheryl has her own private violin studio as well as teaching violin, piano, and guitar for At Home Music Lessons.  In the fall of 2018, Cheryl will begin an appointment as the new strings instructor for Livonia Youth Symphony.  She is excited to be working for At Home Music Lessons and using her skills and interests to give confidence and joy to children and adults throughout the Detroit area.
Doris Williams has been singing since she was very young, starting at two with good old Mother Goose Nursery Rhymes. She started piano lessons at 5 and voice at 14, and continued piano until college. While still a teenager Doris fell in love with early music. While attending Oakland University in Michigan her parents gave her a lute for a birthday present. She graduated from Oakland University in Michigan with a B.M. in Early Music, then went on to Stanford to get her M.A. degree in Vocal Early Music.

Doris has enjoyed the musical scene of the Bay Area since 1988, performing with professional chamber choirs, teaching private piano, choir, and voice, and performing as a soloist in church, recital hall, and many other venues, including local and regional Celtic Faires and Renaissance Faires. Doris accompanies herself on an 8-course lute, and also plays tin whistle, bodhran, and recorder. She is currently active singing Celtic, Renaissance, American, Jazz, Spiritual Healing Music, and Originals, accompanying herself on the lute. Doris has now moved to Michigan to live with her fiance, Jim, and is forging new beginnings as a performer, while still going to California for tours.
Tanya began playing piano at the age of 6 and took private lessons for 10 years.  She excelled in piano festival competitions during her training.  She gained proficiency in multiple styles of piano music, including baroque, classical, romantic, and contemporary. She has plays musical pieces written by composers such as Bach, Mozart, Beethoven, Clementi, Chopin, Schumann, and Kabalevsky.  She began her vocal training in various choirs at the age of 12 and studied under several PhD. level private vocal instructors, including two in the University of Michigan Music School.  Most recently, she was a member of a traditional Latin choir at her church, St. Cyril and Methodist.  She also worked as an organist and cantor for St. Lucy's Catholic Church.  She has experience performing various genres of vocal music, including pop, folk, Motown, musical theater, and opera arias in Italian and German.  Tanya has been teaching private piano and voice lessons to all ages of students from beginner level to early advance for At Home Music Lessons since the summer of 2013.
Kazza Kitchell is an interdisciplinary artist with a BFA from New York University, Tisch. Kazza has been a vocalist, pianist, performer, writer and more for over a decade and has been working and apprenticing as an arts and music educator for the past seven years. Over the last five years Kazza has also worked as a musical director, composer, orchestrator and arranger. Kazza prides themself on their dedication to the goals of each individual student with a focus on responsive and culturally competent learning. Kazza offers singing, piano, music theory, early music, composition, improvisation, and beginner guitar lessons. Kazza is currently working on an album to be released within the next year and looks forward to sharing their music and art.
Julia Mogylevski-Castillo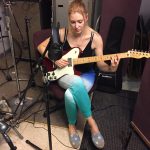 Julia Mogylevski-Castillo is an experienced guitar and piano teacher known for her excellent communication skills, outgoing and friendly personality, and ability to connect with students. She has a knack for maintaining high standards of teaching experience, using various musical methods, different classical schools of playing in a variety of genres to enhance study progress. Julia is able to provide the school with returning students as she collects feedback and customizes an approach for every student.
Her responsibilities include assigning homework, assisting with choice or repertoire, engaging students in recitals, performances and more. Known for being reliable and punctual, Julia is willing to work on weekends and holidays. She specializes in maintaining the classroom well arranged, clean and neat at all times.
Julia has extensive experience as a guitar teacher having worked at the Expressions Music Academy from March 2022 – January 2023; she also works as a private guitar and Piano Teacher at Fortissimo Academy since October 2022; plus, she is a guitar instructor at Annie's Music since November 2022.
Julia currently holds an Associate Degree in Arts with concentration in music from Oakland Community College since January 2020.