Kenny is the founder and first music teacher of At Home Music Lessons. He received his Bachelor's in Music with a minor in business from Rochester College in 2006. In 2003 Kenny received certificates in Business Management and Accounting from the Kenya Institute of Management in Nairobi, Kenya. Since 2005 Kenny has been giving private piano lessons to students ages 5-75. In his studio, Kenny couple's patience and rapport-building skills with a solid music foundation. Through At Home Music Lessons Kenny means to lend his unique teaching talents and experience to the successful education of more students in music.
Adam is a guitar instructor whose primary focus is to INSPIRE his students and help them to internally motivate themselves to be the best they can be. His playing and teaching abilities incorporate genres all the way from Jazz and Blues to Rock & Roll and Folk music. Adam currently attends Wayne State's music program and teaches many other students under the supervision of various companies. His main objective is to adapt to each and every student's musical tastes and learning styles so that they can have the best possible experience.
Aleksandr "SASHA" Kashperko
Sasha studied jazz guitar at Wayne State University. There he studied with some amazing guitarist! Some of them were: Steven Carrier, Chuck Newsome, Evan Perri, Jeff Pedraz and Mike Jellik. Sasha was mentored and worked under critically acclaimed artist Mike Jellick
Sasha is a working musician. He performs regularly around the Detroit metropolitan area. Some of the places where you can find him performing at are: Bakers, Bert's, Cliff Bells, and the Dirty Dog. He has also played in some more fancier locations like the Detroit Athletic Club, Northern Lights Lounge and Maccabees at Midtown. He has also done the occasional out of town/country gigs.
He has performed for the Detroit Jazz Festival Press Conference with "The Genaration's Sextet". There he played with the great Paul Keller, Garry Shunk, Nate Winn, Dwight Adams, and Stephen Grady.
Sasha is experienced with different genres of music having worked in a gospel band at the Greater Tree of Life Baptist Church, with Detroit hip hop band "The Team" and performed on "The Late Night with Tim City Show" and at Iron Street Art Festival.
Sasha also works as an entertainer for various private parties including wedding ceremonies, anniversaries, holiday parties, various company meetings/conferences, graduation parties, and featured artist at various art galleries.
He has been featured in the Michigan Jazz Festival 2 years with different group configurations as a leader and as a side man. Currently leading a trio of a rotating cast of musicians in a weekly performance and jam session for Detroit Musicians at Maccabees at midtown every Thursday from 7-10pm
Allyssa is an artist and a musician. Her music performance began at the age of six. She sang at church every week and she joined the choir in elementary school and kept singing with choir all the way to her College years. She studied voice and piano with several teachers. She is grateful for learning the fundamentals of piano and voice. And now she wants to spread this music with love.
Andrew Smith is a guitarist, composer, private instructor and session musician. He has been playing guitar since 1999 and piano since 2005. He has been a guitar instructor for over 10 years. He has experience in teaching students of all skill-levels and ages on guitar (Electric/acoustic/6 or 7 string), bass guitar, and piano/keyboard. He is well studied in music theory. Andrew specialty is playing the following types of music: rock, jazz, Latin, gypsy, progressive metal, and instrumental music.
He studied under renowned German guitarist, Christian Muenzner for 2 years. Andrew holds a bachelor's degree in psychology, despite being accepted in to the prestigious Berkley College of Music in Boston. His true passion is music and sharing the musical language. Andrew is constantly learning and studying himself to improve his musical knowledge. He has toured with local and international bands and is currently working on writing his own band's debut.
Andrew Woodcock is a highly regarded music teacher with years of experience working with a wide range of age groups and skill levels teaching lessons in both English and Spanish. Andrew began his musical studies at the age of twelve with percussion. While in high school at the Plymouth Canton Educational Park he was a regular participant in state solos, ensemble festivals and at the Bands of America National Concert Band Festivals in Texas and Indiana.
He was a student of Jonathan Ovalle and a member of the PCMB drum-line Andrew also had the unique experience of winning the National Championship with the marching band in 1999. His musical instruction continued at Butler University where he received a Bachelor's degree in Music. During his undergraduate years Andrew also spent a year studying at La Facultad de Artes at la Universidad de Chile in Santiago, Chile. As a performer he has had the privilege of playing in many different types of music ensembles including: symphony orchestras, Afro-Cuban and Brazilian ensembles, steel pan ensembles, rock, funk and jazz combos. Andrew currently resides in Plymouth, Michigan and continues to perform regularly throughout the Metro Detroit and surrounding areas
Benjamin James Carney is eighteen years-old and is currently studying bass guitar/double bass jazz performance at Oakland Community College. He began playing bass at the age of 10 when he and his two older brothers were handed three instruments from his father. The instruments were; a guitar, a bass, and a drum set. No formal training was undergone at first, but eventually his older brother Paul, who drums, enrolled in the Rochester School of Rock a couple years later. His first performance was a tribute show to The Beatles, and ever since then, music has played a massive role in his life. Throughout time he has picked up the guitar and drums as secondary instruments, and find them equally as entertaining as the bass. In his free time, he enjoys listening to music, reading, cooking, and riding his bike.
Chris Lopez is a soon to be graduate from Wayne State University with a Bachelor of Music in Piano Performance where he has received various honor awards and scholarships for his achievements.  He has studied under Dr. Robert Conway of the Detroit Symphony Orchestra.  Besides being a pianist he is also an accomplished guitarist and studies classical guitar as a secondary instrument.  Chris is also a composer and enjoys writing and recording his own music.  After he receives his undergraduate degree he hopes to continue his education and work towards a graduate degree also in Piano Performance.
Daniel Byington is an active composer, performer, multi-instrumentalist and private instructor. He has worked as band leader and as a hired performer for numerous touring bands and award winning composers. He has been teaching music for nine years, and offers instruction for the Guitar (6, 7, and 8 string), Piano, Bass Guitar (4 and 5 string), Violin, Trumpet, Ukelele, Voice, and Ableton Live. He currently works as a full-time instructor and is self-recording and performing an album of original compositions. He welcomes students of all ages and genres and specializes in progressive styles of rock, jazz, and metal. Daniel has a flexible teaching approach which he scales to suit each individual student's strengths and interests
Deema Hagehassan has been playing piano since the age of six, typically on and off, but she has always loved playing! She has a bachelor of science in health care management from Madonna university and expects to begin law school in the fall, but that should not hinder her to provide excellent piano lessons. She is very outgoing and loves being around people and animals. Deema is an excellent teacher because she is patient and truly wats the students to grasp what she is teaching them.
Betty has been playing piano since she was 12 years old. She had several years of private lessons and greatly enjoyed the experiences of it which she would love to deliver to you. She has also experience in teaching adults to play piano as well.
Jeffry Cuny, I'm a recent Wayne State University graduate with a Bachelor of Music degree.  He is currently working as a freelance bassist performer at places such as Bert's Warehouse, Baker's Keyboard Lounge, Jazz Café, Detroit Institute of Arts, and Cliff Bell's in Detroit. He also does private parties and events for General Motors, Wayne State, and he also does weddings. Co-leading an octet/nonet since 2014 that has performed at Cliff Bell's and Noel Nights.
He also plays in various original and cover groups in metro Detroit. Venues include Magic Stick, The Majestic, The Crowfoot, St. Andrews, The Shelter, and Motor City's Soundboard. He has also performed in several festivals like Arts, Beats & Eats, Dally in the Alley, the Wyandotte Street Fair, and Fillmore Jazz Festival (San Francisco). Some notable bands include: Valley Hush, House Phone and Groove 8.
Jolph has performed as s a Jazz Pianist since 2006. His gigs include bookings at Cliff Bells, the Detroit Athletic Club, the Chop House, the Atheneum, the Keystone Underground, Joe Muer's of Detroit, and the Rattlesnake Club. During the day, John performs Jazz, and popular and light classical music at the Laurel Park Von Maur. John is a popular performer as the Ann Arbor Art Fair and the Ypsilanti Heritage Festival.
His original musical compositions back up major local talent on Detroit radio. Atlantic Records signed one performance group that had earlier recorded his music. In addition to one-on-one piano lessons in Rochester Hills and Grosse Pointe, John serves as the Youth Band Pianist and Instructor, Temple Beth Emeth in Ann Arbor.
John holds a Bachelor of Music degree from Wayne State University with a concentration in Jazz Studies and with piano as his musical instrument. He is also a graduate of Ann Arbor's Community High School.
John is a proud resident of the City of Detroit. He is very much an urban artist who also loves New Orleans, Miami, New York and San Francisco. And yet you may be surprised to find him camped at Weather Station on South Manitou Island or relaxing on the porch of the Grand Hotel on Mackinaw Island.
Lisa has been playing piano and singing for over 30 years. She began private lessons at the age of 10 under the tutelage of Marjorie Gloyd, active leader in the National Federation of Music Clubs in Virginia. Lisa received professional training in both voice and piano; however, she prefers teaching beginner piano especially ages 5-11.
Lisa has a "bubbly" personality and makes learning fun. She is extremely patient, and can instinctively pick up on her students' capacity and adapts her teaching methods to enhance the child's strengths and keep them engaged.
Lisa's is the Mother of one Son. He is 12 and is autistic. It is her experience with raising him that gives her a unique ability to engage even the most distracted of students.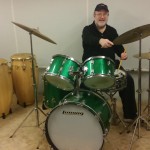 Mark is an accomplished drummer who has performed with various small groups in the Detroit area, Washington DC area, and Austin, Texas. He plays drum set, conga, bongos and other percussion instruments for over 35 years. His favorite types of music include light rock, country rock, jazz, Latin, Caribbean, and the blues.
Mark has studied drum set and other percussion instruments (specializing in hand drums) with several professional performers over the years and has taught young children, family members, and friends in the fundamentals of drumming. In addition to drums and other percussion, Mark is an accomplished Euphonium player who has performed with various school bands, community bands, and small brass groups. He also plays trombone from time to time.
Mark learned the fundamentals of music as a child in elementary and middle school bands and through private piano lessons. When he is not drumming, Mark works as a professional writer and editor for several Detroit area clients.
Michelle Chekan is a Michigan resident.  She has been playing classical piano since she was 3 years old.  She was a classically trained musician; however, she is also a song writer, performer and an accompanist as well.
She studied Theory and Composition at Michigan State University.  She regularly performs jazz standards and show tunes for the elderly, specifically Alzheimer's and dementia population. She loves to teach piano for children and adults alike.  She specializes in beginners or intermediate musicians. She teaches students from ages 3 to 103.
She will not only enthusiastically teach students how to read music and be able to translate to playing the piano, but I also teach music theory, techniques and songwriting.
Lastly, she finds such joy from teaching and that "aha" moment when a student "gets" it.
Nick was born in Pontiac Michigan. He started performing in 1970. Some of the acts that he has performed with are: Uptown Orchestra (New Orleans), Marcus Bellgrave, La Sangre Nueva Band, Raw Souls, Dream Foundation, Orange lake Drive, Francesco Mora collection, Sunny and the Sunlines, The Blue Notes, Kevin Collins Group, David Sharp quartet, Flaming Souls, Kelvin Brooks, Bubi Webb and Friends. Through the years I have studied and learned how to play the following instruments:
Brass Instruments: trumpet, fugal horn, cornet, trombone, tuba, mellophone, baritone horn, clarinet.
Reed Instruments: soprano saxophone, alto saxophone, tenor saxophone, baritone saxophone.
Woodwind Instruments: flute & piccolo flute.
Percussion: trap drums, congas, timbales, steel drums, uta drums, vibraphone, jambi drums, go-go bells, cow bells, shakira, cuiga drums.
Other Instruments: piano, guitar, bass guitar.
Nick has a lot of teaching experience; they can be found below:
He has done trumpet workshops at Michigan State in their jazz department.
Worked through the OMNI Arts in Detroit going to the elementary classes to give demonstrations.
He worked with Francisco Mora demonstrating various examples of Latin music at the University of Michigan.
He goes to local school systems to work with the brass sections.
He gives private lessons.
Nick ('Stone') Wilczynski has been playing the saxophone for 24 years. He graduated from the University of Michigan with a Music Education (Jazz Emphasis) degree, where he studied with Donald Walden.
Nick toured for four years with NeYo and is currently the saxophone soloist for R&B legend and multiple Grammy nominated artist Charlie Wilson, who he has worked with since 2011.
He also performs locally and throughout the Midwest in clubs and for events, is a part of the music ministry at St Kenneth Church in Plymouth, and also maintains a busy studio schedule. Nick resides in Dearborn.
Roy Scoutz loves to teach and play the guitar. He also loves to watch his students get excited about music! He has been playing since 1968 and has been a professional musician and teacher since the mid-70s. He lived in Los Angeles for many years and the experience of being a musician for hire has given him a lifetime of skills that he like to share with others. He uses books to teach the basics tools one needs to play a piece of music and he also enjoys showing students how to play songs that they love. He can also help with picking out an instrument, changing strings etc.
Ryan Woods is a Senior at Rochester College. He is working on a music degree with a minor in theater. He has various experiences in music including being the president of the A Capella chorus at the college. I have been singing for as long as I can remember and was introduced to various instruments at a young age. I find great joy in music and hope to share that with others.
You can call him Buddy for short. He plays various musical instruments and has been playing for over 40 years. He can play Saxophone, Clarinet, Trumpet, Guitar and Piano.
He is the son of a well-known Musical Director in the Philippines. When he was 11 years old, he was able to play the Clarinet and joined various Bands in Davao City National High School in the Philippines. After 6 years, he mastered Alto Saxophone and played for College Band in International Harvardian University in the Philippines. After graduating college of Civil Engineering, he still pursued his musical career and joined professional bands, Orchestra, and Choir in the Catholic Church.
He is good in Conducting and Reading notes thoroughly. Very friendly and approachable. Currently Resides in Southfield, Michigan. Knows Jazz, Swing, Boogie and even Modern.
Victoria began her love of music at the age of ten. Her first instrument was the organ with Donna Ross. She continued her academics with organ and piano under Ken Kokowicz and then moved onto Pam Felix. She participated in a monthly organ club and many competitions through the years participating in the Yamaha Electone Festival, American Guild of Music and the MMA. She has experience working with children who are special needs and teaching them piano. She has been working as a piano teacher with At-Home-Music since 2013.
Tanya began playing piano at the age of 6 and took private lessons for 10 years.  She excelled in piano festival competitions during her training.  She gained proficiency in multiple styles of piano music, including baroque, classical, romantic, and contemporary. She has plays musical pieces written by composers such as Bach, Mozart, Beethoven, Clementi, Chopin, Schumann, and Kabalevsky.  She began her vocal training in various choirs at the age of 12 and studied under several PhD. level private vocal instructors, including two in the University of Michigan Music School.  Most recently, she was a member of a traditional Latin choir at her church, St. Cyril and Methodist.  She also worked as an organist and cantor for St. Lucy's Catholic Church.  She has experience performing various genres of vocal music, including pop, folk, Motown, musical theater, and opera arias in Italian and German.  Tanya has been teaching private piano and voice lessons to all ages of students from beginner level to early advance for At Home Music Lessons since the summer of 2013.
Zina is an artist and a scientist. Her education in music theory and piano performance began at the age of five. She studied with outstanding Russian instructors from whom she is grateful for learning the fundamentals of music. Perfect posture, countless hours of practice, persistence, and a passion for music are the foundations of her musical education.
Zina graduated with distinction from Trinity College London, Patron: HRH The Duke of Kent, in Solo Piano, and passed the Associated Board of the Royal School of Music examinations with merit.
In addition to music, Zina's interest in science and medicine came from her physician parents who encouraged her to study medicine. She graduated from Damascus University with a degree in Dentistry, DDS. After moving to the United States, she continued teaching piano which she describes in her own words: "Teaching piano makes me happy, but watching my own students' progress makes me want to fly."  Zina is very passionate about music and she is an expert in teaching all ages, kids and adults alike. Currently, she is in her fourth year studying Fine Art (Painting/Sculpture) and Science at Wayne State University. Her hobbies include playing the flamenco guitar and Bikram hot yoga.
Michael James Thompson has over 20 years of experience as a working musician, combining: Private drum inst
ruction, live performance, studio work, and collaboration on original material with fellow musicians.  He studied under two excellent drummers from the Detroit Metro area: Darryl Pierce and Donny Gruendler.
His former teacher Darryl Pierce (among many other accomplishments) currently tours internationally and nationally with a well-known artist by the name of Bettye LaVette. This group has made frequent television appearances, including: David Letterman and Austin City Limits.  And his first teacher Donny Gruendler, is currently the Vice President of Academic Affairs, at Musicians Institute in Los Angeles; and he has been featured in several Modern Drummer publications.
Michael has been blessed with great musical experiences in the Detroit area.  He has been a member of solid Metropolitan Detroit bands, including: Friends of the Family, Night Train, Mojo Stu, and The Mobius Loop.  He has supported notable national acts, including: The Headhunters (Herbie Hancock), Melvin Seals, Mofro, and Strange Folk.  He has also recorded at excellent Metropolitan Detroit area studios, including: Studio N Armada, Riff Lab Studios, Woodshed Studios, and The Disc.  Michael also feels very fortunate to have played many of the top venues and events in the greater Metropolitan Detroit area, including: The Magic Bag, The Magic Stick, The Majestic Theater, Fifth Avenue Comerica Park, Smalls, Bert's Marketplace, The Cadieux Café, Alvin's, The Old Miami, The Music Menu, The Detroit Art Festival, and The Dally in the Alley.
Mary Ann started taking guitar lessons when she was eleven.  In her younger years she has performed at open jam sessions and talent shows.  Playing guitar has always been her favorite pastime.  Mary Ann is an Early Childhood Educator with a Bachelor Degree in Family and Child Development.  She always had a passion to make a difference in the lives of others and is a firm believer that music can do just that.  Her patience and caring attitude makes her an outstanding guitar teacher.